VULNERABILITY SCANNING AND PENETRATION TESTING
Defend with the Viewpoint of your Attacker
Understand your production stack's vulnerabilities, get alerted to newly discovered weaknesses, and benefit from an intelligence platform that sees the full picture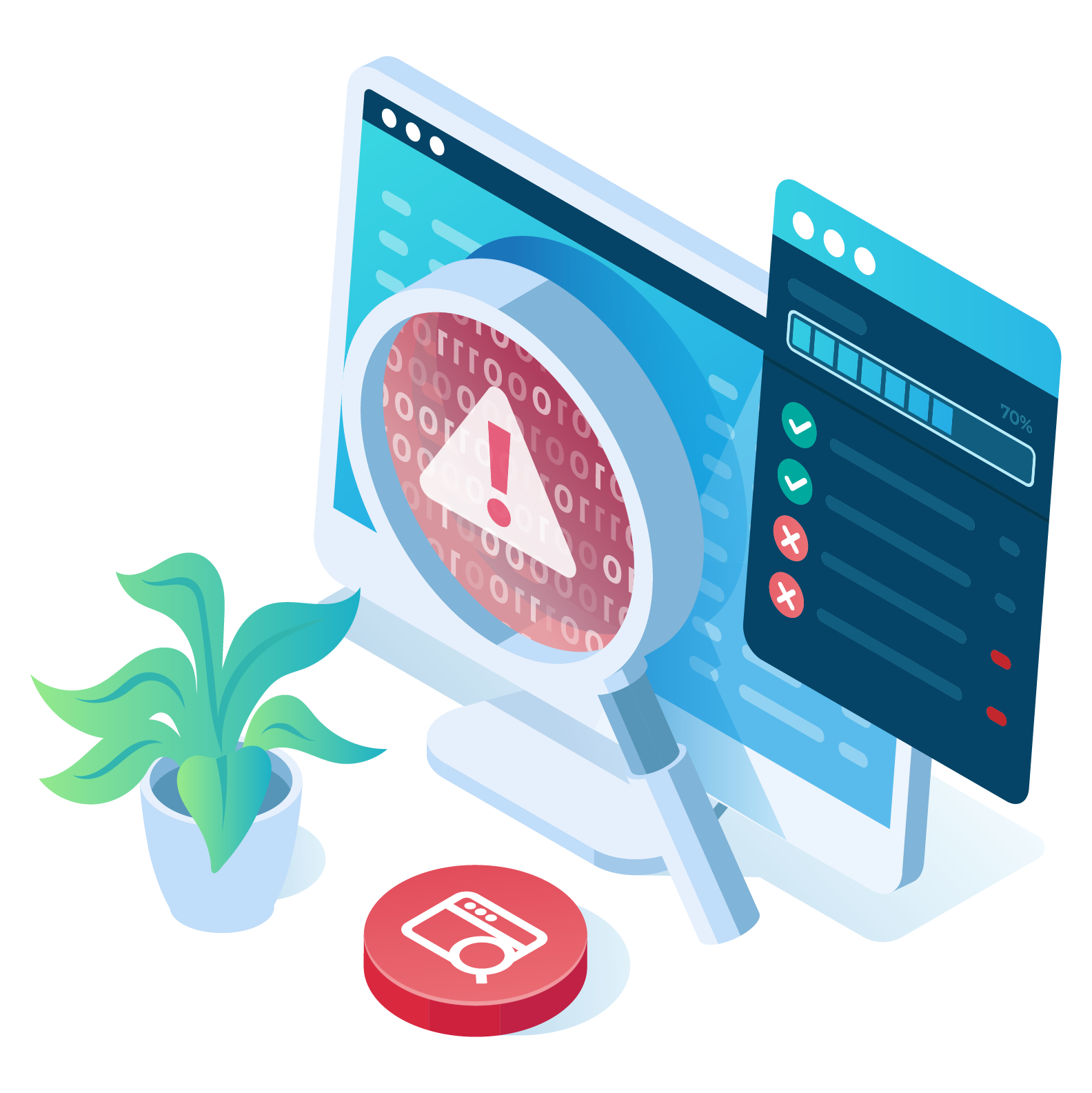 VISIBILITY YOU CAN RELY ON
We offer the most comprehensive vulnerability scanning and testing
so you can spend less time waiting, wasting, or worrying
and more time committing, pushing, pulling, and building
Sweep
Gain a complete documented understanding of your network, domain, or project's visibility and vulnerabilities
Identify
Gain insights and technical details into your platform's specific vulnerabilities; spot misconfigurations, vulnerable ports, and unpatched exploits
Remediate
Customers of our Managed Detection and Response platform benefit from automatic updates and patch verification. Otherwise, we're here to help with context, guides, and technical support while you patch
Verify
See the impact of changes to your codebase and dependancies, and compare configurations across domains or endpoints
BUILT TO SHINE
Gain an in-depth understanding of your posture
Get a comprehensive understanding of your posture with our cutting-edge recon and intelligence platform. We take offensive measures to ensure that you stay one step ahead, providing you with precise insights into your network's vulnerability to potential attackers.
See all exposed services connected to a target domain
Scan for exposed files, paths, and other sensitive information
Detect available and/or vulnerable SSL versions
Detect available and/or vulnerable TLS versions
Check for misconfigurations in the target's security headers
Scan for and extract information from vulnerable Azure instances
Evaluate encryption standards used in the target environment for weakness
Understand what services connected to a target are exposed to the public internet
Scan for over 500 of the most common server, domain, and host configuration mistakes.
See an entire list of available services detected for access on a target
Scan for and detect a slew of WordPress platform vulnerabilities, including security updates, misconfigurations, and more...
Detect endpoints and routes that may be vulnerable to Server-Side Request Forgery
Detect and extract email leaks from a target's poor security posture
Technology Fingerprinting
See a complete list of detected technologies running/in use on your target.
Detect the presence and potential configuration of a target's Web Application Firewall, including manufacturer, service plan, and more.
Detect and test for exposed, out-of-date, and vulnerable ??SQL instances.
Enumerate and test for proof-of-life and port availability across your entire port surface.
Automated Triage
Vulnerabilities are automatically reported to your organization's HackerOne, if participating.
360 DEGREE VISIBILITY
Results you can rely on
Power the pro's already trust

Forward-facing scans
Our vulnerability scans include reports from over 20 of the most popular open source security tools such as subfinder, nuclei, httpx, naabu, gospider, amass, ffuf, assetfinder, sublist3r, hakrawler, OneForAll, and theharvester; the same tools you're likely to find in your security auditor's toolbox.
Our scans are performed from an offensive viewpoint, giving you a truly unique fingerprint of how an attacker may view and attack your network
LESS LOOKING, MORE SEEING
Need constant security vulnerability monitoring and testing?
Proactive automated scanning starts at $20/mo